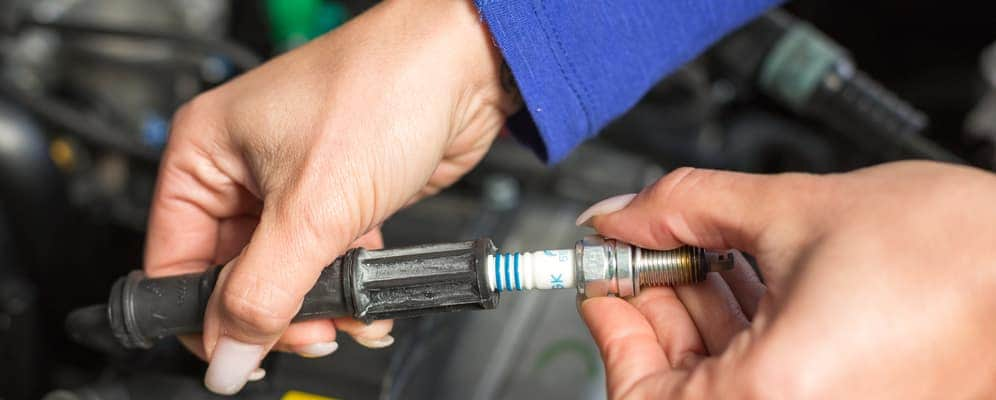 If you're like a lot of Deer Park drivers, you may know a little bit about spark plugs but might be unsure about how often you should change them. Most experts usually recommend changing your spark plugs about every 30,000 miles, but the exact number can vary depending on your specific vehicle. You can always consult your owner's manual for a more specific number. Luckily, the service department at Bayway CDJR has put together a handy guide to help you answer the age-old question: When do I change spark plugs? 
How to Know If You Need New Spark Plugs 
Your spark plugs literally spark the life in your car and help it run at its best on the La Porte roads. The spark plugs work by moving the high-voltage current from the ignition coil so that it ignites the combustion chamber as soon as you start the engine. If the spark plugs aren't functioning properly, you may notice some telltale signs. Some of the signs that indicate you might need new spark plugs include: 
Engine is slow to start or doesn't start at all
Engine often misfires
Engine is noticeably running rough when driving your vehicle
Idling is rough
Acceleration is poor or slow
Fuel economy is noticeably different or lower
If you notice any of these signs or other unusual occurrences with your vehicle, then schedule a visit with our service department at Bayway CDJR. 
Benefits of Changing Your Spark Plugs
Knowing how often to change spark plugs can help you keep an eye out for when your spark plugs go bad and keep your vehicle in top condition wherever you go. Your spark plugs are essential to giving life to your vehicle, and there are a plethora of benefits to changing them regularly. Some of the benefits of regularly changing your spark plugs include: 
Better Fuel Economy: Worn out spark plugs have been shown to decrease fuel economy by as much as 30%. Replacing your spark plugs regularly can help keep the fuel economy at normal levels. 
Regulates Combustion System: When your spark plugs are working properly, they help regulate consistent combustion and keep the combustion system in check. 
Smooth Vehicle Start: Replacing your spark plugs when they need to be changed can help your vehicle start effortlessly. There's nothing better than turning your key and having your car start smoothly every time.
Less Harmful Emissions: When you replace your spark plugs regularly, you can improve your fuel economy and reduce your emission level, which is better for the environment. 
Make it even easier to enjoy these benefits by taking advantage of our rotating service specials to help you get the most out of every service visit. 
Schedule a Visit with Bayway CDJR
Now that you know how often to change spark plugs, you can keep an eye out for your vehicle and bring it into our shop when it's time to get the spark plugs changed. Contact us to learn more service tips and get your vehicle back on the Pasadena roads in no time.