2019 Dodge Challenger- Everything You Need To Know
2019 Dodge Challenger.
Dodge has finally released the details on their 2019 Dodge Challenger, and it's amazing. Dodge muscle cars will live on for many years to come. With a variety of trims and options to choose from, there are a lot of features and choices to look forward to. Interested in buying a Dodge Challenger? Click here. Additionally, here are a few things you should know about the Dodge Challenger.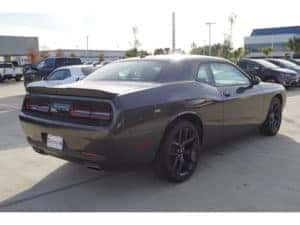 New Performance Features.
Powered by the 485hp 392-cubic-inch HEMI v8 engine, the 2019 Dodge Challenger R/T Scat Pack can come with the Widebody package for some serious style. For 2019, the R/T Scat Pack also comes with features found in the 2018 Dodge Challenger SRT Demon and SRT Hellcat trims- launch control, launch assist, line lock, and SRT drive models. The R/T Scat Pack weighs 200 pounds less than the most powerful 2019 Dodge Challenger, and this is the most horsepower one can get for less than $45k.
The Most Powerful 2019 Dodge Challenger.
While talking about the most powerful 2019 Dodge Challenger, we might as well talk about the new 2019 Dodge Challenger SRT Hellcat Redeye. Called a "Demon-possessed" Hellcat, this new high-powered version Challenger will come with a re-tuned 6.2-liter V8 HEMI Demon engine. We say re-tuned because Dodge brought the 840 horsepower and 770 lb-ft of torque of the SRT Demon down to 797 horsepower and 717 lb-ft of torque for the Redeye. With a top speed of 203 mph, beating the top speed of the Demon by nearly 40 mph (168 mph), does the drop in horsepower really matter? We didn't think so.
Eight Models for 2019.
The base Challenger SXT RWD (starting at $27,295) and SXT AWD (starting at $30,295) comes with a 305-hp Pentastar V6 engine, as do the GT RWD (starting at $29,995) and GT AWD (starting at $30,995), all with a standard eight-speed automatic transmission. The Challenger R/T (starting at $34,100) gets a 5.7-liter Hemi V8 with 375 hp and 410 lb-ft of torque, while the R/T Scat Pack (starting at $38,995) gets a 6.4-liter 392 Hemi V8 tuned to produce 485 hp and 475 lb-ft of torque. The R/T and R/T Scat Pack come with either an eight-speed automatic or six-speed manual transmission.
The SRT Hellcat (starting at $58,650) uses a supercharged 6.2-liter Hemi V8 with 717 hp and 656 lb-ft of torque. A new SRT Hellcat Redeye (starting at $69,650) boosts that supercharged 6.2-liter Hemi V8 to 797 hp and 707 lb-ft of torque. Hellcat models carry a $1,700 gas guzzler tax.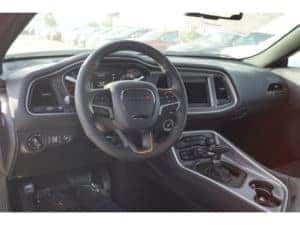 Hellcats Power Boosts, but the Price Drops.
Yes, you read that right. When details about the new 2019 Dodge Challenger SRT Hellcat first arrived, we learned about the new, functional dual-snorkel hood being added to the fiery feline. Functional, because it actually gives the SRT Hellcat a bit of a boost, from 707 horsepower to 717 horsepower. Best of all, Dodge has made a little compromise – get the power without the premium features (read as "leather upholstery") and dropped the price of the SRT Hellcat from 2018 by $5,000.
Newer Capabilities.
Yes, Dodge is adding more capabilities to its lineup. Who would have guessed that they all surround drag racing? Like the new 2019 Dodge Challenger SRT Hellcat Redeye, the Challenger Scat Pack is also feeling the heat of the SRT Demon. The moniker for the Demon-inspired Scat pack is called the "Scat Pack 1320 ("Angry Bee")". Drag-strip-oriented but street legal, the Scat Pack 1320 Angry Bee comes with drag racing features such as Drag Mode, Line Lock, TransBrake, Torque Reserve, and available drag radials. Consumers can add the (currently named) Angry Bee package for $3,995 – that puts the trim at a starting price of $42,990 (plus destination fee).
More Options For Cash.
There are plenty of choices to up the ante for 2019, but they do come at a price. That shiny Widebody package available for the 2019 Dodge Challenger R/T Scat Pack, SRT Hellcat, and SRT Hellcat Redeye? Comes at a cost of $6,000 but adds on flared fenders, 20-by-11-inch Devil's Rim forged aluminum wheels, all-season performance tires, an upgraded suspension, a blacked-out rear lip spoiler, and a scalloped hood. Pirelli P Zero summer tires are available for extra grip on the drag strip. Should be worth it.
Fuel Economy.
Fuel economy specs range from 23 mpg in the V6 with automatic to 18 mpg in the R/T with manual transmission and 17 mpg in the R/T Scat Pack manual. Hellcats top out at 16 mpg combined, which sounds optimistic for a car that can drain its entire fuel tank in 11 minutes at full throttle.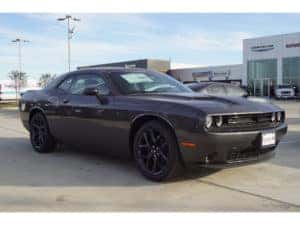 If you want to give the 2019 Dodge Challenger for a spin, come to see us here at Bayway Dodge Jeep Crysler Ram.